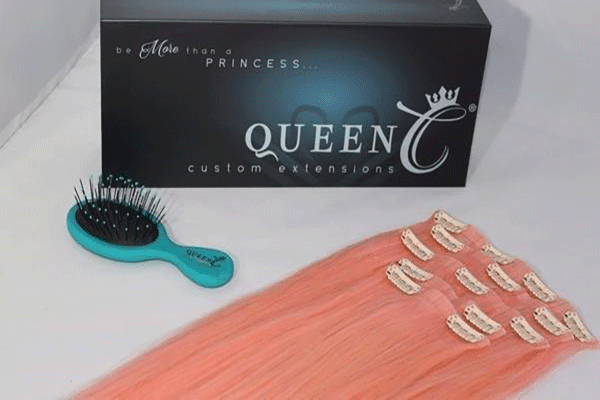 AIRess - Peach
Queen C Hair AIRess Peach Hair Extensions for Thin Hair Fine Hair
Details

ALL SALES ARE FINAL
AIRess Extensions are designed for those with fine and or thin hair or for those who just want to add volume to their natural hair. 


What's so special about this Collection? They are designed with a thin silicone flexible base, half the thickness at the base as our Crown Jewels Collection. And for your added benefit, the base is stitched to prevent shedding. The clips are silicone infused with a silicone bar to prevent slipping.

This all insures the most comfortable, practically invisible set of extensions you will ever wear. With only 5 pieces you will feel stunningly glamourous within a matter of minutes.
Instantly add volume to your hair with Peach clip in Queen C Hair extensions. Transform your look and feel more confident with longer, fuller hair.
Peach is vibrant with pink undertones.
Do you need help picking out a color? Simply text 615.674.1847 or email photos@queenchair.com, 2-3 photos of your hair in natural light and we will help you choose the perfect match. 
ITS ALL IN THE DETAILS
Do you have fine and/or thin hair? Do you just want some added volume but not necessarily such bold thickness or length? Or maybe you don't have as much hair as you used to? These inconspicuous, lightweight extensions are your answer! They provide a natural amount of volume to make your hair like the hair you used to have or would like to have.
SEE HOW TO GET IT DONE
Every time a product is purchased from the AIRess Collection, Queen C Hair will give a percentage to the Women Survivors Alliance.

WSA is a non-profit organization that helps women that have suffered from cancer, because cancer doesn't end when treatment does.